Reading time: 3 minute(s)
November 30, 2014
Pocket zoo for Android devices now available!
Reading time: 3 minute(s)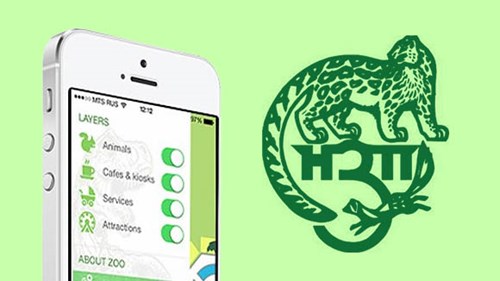 Data East is pleased to announce the English-language release of Zoo Nsk - a free application for the Novosibirsk zoo, one of the three biggest zoos in Russia. Currently the application is available for Android devices only, but in early November 2014 it will be released for Apple iOS smart phones and tablets as well. 
With Zoo Nsk you can track your current location and plan your own zoo visit route. The English-language app is the localized Russian version for Apple and Android devices (called Зоопарк Нск in Russian) released in June 2014.
Mobile app Zoo Nsk is an electronic map of the Novosibirsk zoo containing four thematic layers: animals, cafes, services, and attractions. Using this interactive map does not require any internet connection, so you can navigate on the zoo territory and get information about zoo objects without being online. With Zoo Nsk you can find your favorite animals, see their description with photo and even learn their nicknames, if any. Besides, you can find information about the tickets price, working hours, zoo attendance rules, and provided services (look tours, lectures, interest groups, strollers and wheelchairs rentals, pony rides, and etc.). Do not forget to have a look at the zoo special events calendar to be aware about all planned events and to make your zoo visit more exciting.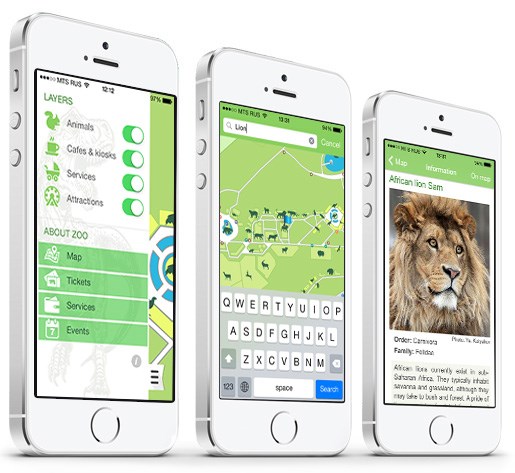 "Even well-known zoos in Berlin, San Diego and Singapore do not have such an app, provided to navigate on the zoo territory and finding information about all zoo animals, like we do here in Novosibirsk. So, we are on the cutting edge of modern GIS technologies with our application. Great that the foreign guests visiting our zoo will now be able to download the English-language electronic map and view all the information about the zoo. This application can be localized to different languages. The Novosibirsk zoo is in the top twenty of the best zoos in the world and I really hope it will be always one of the best", says Rostislav Shilo, Director at Novosibirsk zoo.
"Novosibirsk zoo can be interesting not only for Novosibirsk residents or other Russian speaking people from cities of Russia and CIS countries. Many foreign tourists from different countries come here to see amazing animals collected from all over the world", says Vyacheslav Ananyev, CEO at Data East. "So we need to provide them with all necessary information translated to their language. Our technology allows prompt localization of the application interface to different languages, but the process of translating the application content can be quite time-consuming. However, the German-language version is planned to be released in the next future. We also consider localizing this app to Chinese, in case of the apparent demand for this".
Both versions of the mobile app will be regularly updated and extended by adding new services and information about zoo animals, attractions, etc. The recent release contains photos made by the "Novosibirsk zoo animals" contest winners. Besides, the changes in the zoo working hours, winter pavilions, and work of the other infrastructure objects for the coming winter season have been added.
Data East released the first free mobile application for a zoo in Russia on June 4, 2014. The Novosibirsk zoo is a world-renowned scientific institution and a popular tourist attraction. The zoo has over 11000 animals and is an active participant of different captive breeding programs for endangered species. On average, around 700000 people visit the zoo each year. This is the third biggest zoo in Russia with the territory of more than 60 hectares. The mobile app can be downloaded right at the zoo territory, as there are several Wi-Fi hotspots on site.
Zoo Nsk application for Android devices is available at Google Play
Download mobile application Zoo Nsk