Reading time: 4 minute(s)
May 22, 2017
Interactive maps used in roads construction
Reading time: 4 minute(s)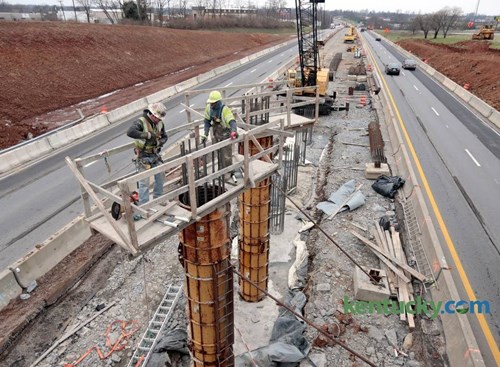 Kentucky Transportation Cabinet's approach to interoperability of GIS and CAD data
The Federal Highway Administration (FHWA) is an agency within the U.S. Department of Transportation that supports State and local governments in the design, construction, and maintenance of the Nation's highway system (Federal Aid Highway Program) and various federally and tribal owned lands (Federal Lands Highway Program).
Transportation agencies use both GIS for planning and landscape-scale analysis and CAD for design and engineering functions of transportation delivery. The formats and tools associated with each computing environment are different and often separate; however, GIS and CAD complement each other by encompassing the full range of scales at which a transportation agency conducts its business.
As FHWA puts it: "The different tools and data formats associated with CAD and GIS environments currently present a barrier to building a data life cycle for transportation data and information such as ROW (transportation right-of-way boundary). Software packages are not designed to easily facilitate the scenario, for example, where a maintenance engineer uses a GIS asset inventory to identify a pipe in the area of a known drainage problem, draws up a larger pipe in CAD, and then enters the updated pipe dimensions back into the GIS asset inventory once it is built."
In order to better link the information that traditionally resides in these respective computing environments, agencies are currently pursuing various approaches at increasing the interoperability of GIS and CAD data and applications. In order to make operations more efficient and to be ahead for progress in the 21st Century FHWA decided to find best practices on how departments of transportation solve problem with CAD and GIS interoperability.
As a result, FHWA toghether with other organizations prepared a report based on collected best practices. Report was expected to support GIS and CAD practitioners by providing examples of noteworthy practices, presenting the challenges of GIS-CAD interoperability solutions, and determining how these efforts might support planning, decision-making, and asset management.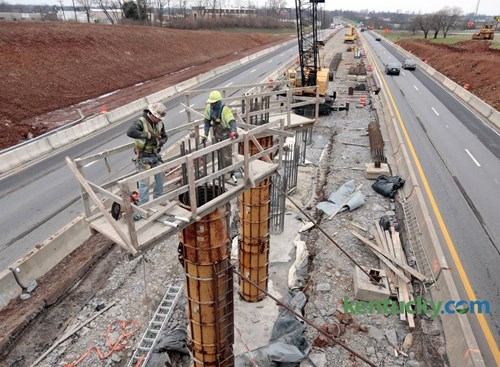 KYTC engineers at work on construction site. Source
Kentucky Transportation Cabinet's Case
One of the cases from the report is about experience of Kentucky Transportation Cabinet (KYTC). KYTC is responsible for supervision of more than 27,000 miles of roads. This includes urban roads and highways, as well as railroads, bike- and walkways, river routes and takeoff runways. More than 500 engineers oversee and perform construction activities on these sites.
Beginning from 2013 KYTC specialists deployed modern technology to prepare specific field work maps. If the agency's maintenance team is repairing a culvert, for instance, they can prepare a map that combines CAD data (i.e., culvert dimensions, pavement information) and GIS vector and raster data (i.e., ROW information, hydrography, elevation data, and current aerial photography) into one map so that engineers and construction supervisors be able further use such maps to compare the actual state of site or performed works with the project and to explain project details to non-technical stakeholders.
The technology they are using is CarryMap, an extension for ArcGIS desktop. CarryMap allows to quickly transfer maps combining GIS and CAD data to any computer running Windows OS or to mobile device running iOS or Android OS without any losses.
CarryMap allows users in the field not only view map on their devices, but also:
add or import pushpins;
rotate a map;
insert hyperlinks;
switch between latitude/longitude and X/Y coordinates;
and measure distances.
CarryMap also works with handheld global positioning systems (GPS) devices. Ultimately, any data generated via CarryMap can be imported back into ArcGIS.
To sum up, before the integration efforts, only CAD users could access the majority of detailed information about a construction project. With CAD data now integrated into GIS, staff members can more easily access project information and compare it to known information in other GIS systems. GIS users can also quickly create maps for customers who seek more information about a construction site and its surroundings. Minimizing fieldwork reduces labor hours and travel costs such as vehicle gas and employee per diem. When a staff member does not have to travel to a job site because she or he can answer a question using integrated CAD and GIS data, the savings are immediately apparent. Besides, when CAD data are accessible in a GIS environment, it allows stakeholders to identify potential issues with transportation projects earlier in the design process. Individuals who experience these and other benefits will likely share the use of new technologies or strategies with colleagues.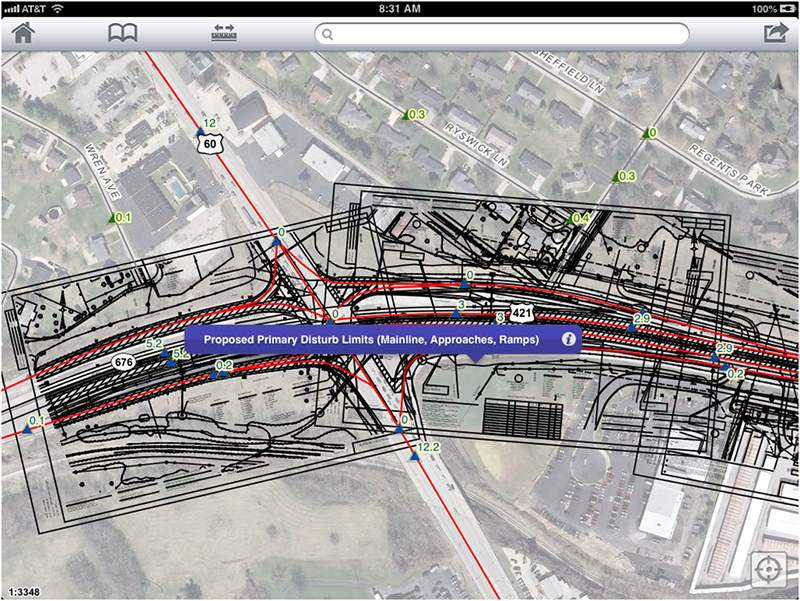 Screenshot of CarryMap application on mobile device of KYTC engineer. Source